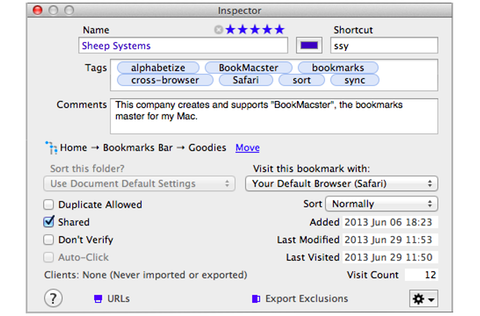 BookMacster, the Bookmarks Master for your Mac, does it all.  Choose one, two or all three…
Bookmarks Manager 
Add features such as tagging and alphabetizing to bookmarks of browsers such as Safari.  Verify, fix dupes, consolidate.
Cross-Browser Syncing Bridge
Keep web browsers (Safari, Firefox, Chrome, etc.) on your computer(s), tablet device(s) and smart phone(s) synced with the same internal bookmarks.  Engineered for compatibility with iCloud, Sign in to Google and Firefox Sync.  Bookmarks changes to Safari via BookMacster on your Mac will show up, via iCloud, in Safari on your iOS devices, and vice versa.
Central Bookmarks Store 
Keep your bookmarks in one central, well-managed store under your control.  BookMacster's extensions and global access work within your browsers.

Some Recent Testimonials
Man am I glad I gave it another chance. This software has made my life so much easier.
-- Robert C.
Love the product
-- Ken M.
I am super impressed by how well BookMacster works!
-- Ross R.
Works very very SLICK Indeed ... more than I had expected … KUDOS
-- Anthony T.
I'm very impressed with the quality and thoroughness of your product by the way. I've been using (and sometimes reviewing) and sometimes creating, software since 1979, so I've seen a lot!.
-- Eric P.
Your program is indeed pretty amazing, especially that it works automatically and hidden, I really like it.
-- Paul M.
I find the program invaluable.
-- Guy B.
I've been using BookMacster for a couple of hours now and already love it.
-- Ed M.
great program for me as I do a lot of dev work using Chrome on different platforms but like to keep Safari in-tact for iPhone / iPad)
-- Sean M.
I am loving your product.
-- Ann H.
The bookmarks are on safari and firefox on all my computers, and even on my ipad and iPhone … Thanks so much.
-- Dave G.
When bookmark managers don't play nice with iCloud, things become a huge mess that I never want to spend time sorting out again (I've been there). Keep rocking the bookmark world!
-- William P.
Thank you very much for your great software.
-- Richard S.
I use both Safari and Chrome so it's very helpful.
-- Monica C.
It worked beautifully! Can i just tell you how much I appreciate you?
-- Bill L.
Thanks for good app
-- Richard M.
The application is working flawlessly and is superior to others i've tried.
-- Blaine M.
The app is working really well. I'm giving up on [Product X] for BookMacster.
-- Lito D.

Help Book
BookMacster comes with an Apple Help Book in its Help menu.  The Help Book for the latest version of BookMacster is available online, here.

Pricing

A Regular License for BookMacster is priced at $22.95 USD.  We also offer volume and academic licensing, and discounts for Bookdog users (see below).  Discounts are available to those who upgrade from Bookdog.

How to Demo or Buy
Simply download BookMacster, install and start using it.  When you attempt to save or export bookmarks, click the "Demo" button.  In a few seconds, BookMacster will request, retrieve and install your Demo license which will be good for 3 days.  You may do this 3 times, thus receiving 9 days of active demo time.
To purchase a Regular license, launch BookMacster and click in the main menu