The free, tiny time saver for Apple's Time Machine™ application.
Quickly find old file versions in Time Machine™

With a little external hard drive, Apple's Time Machine application will save your bacon in the event of a hard disk failure.  And if that external drive is big enough and configured it properly, you can also go back and resurrect work that you had trashed or overwritten weeks or months ago.  But if you've ever done that, you know Apple didn't make it very convenient, especially if you want to, say, look at the history on one particular file.  FileGoBack is so fast that we can show you everything it does, in 29 seconds
Although using FileGoBack from the Services menu is very cool, you can also open a file in the conventional way, by launching FileGoBack and clicking in the menu File ▸ Open.


There is a beautiful guide to FileGoBack (in French) in the February 24 2015 edition (Volume #109) of
Vous et Votre Mac Magazine.
Screenshots
Launch FileGoBack from Finder.  It's a System Service…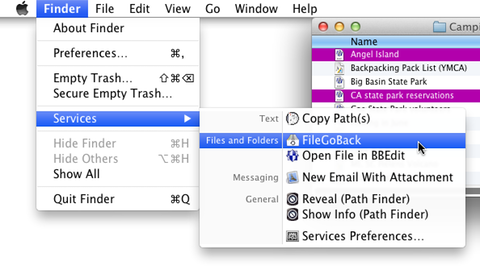 A few seconds later, you get the GoBack window…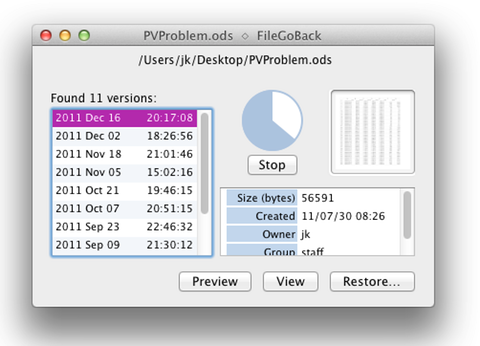 System Requirements
FileGoBack requires Mac OS X 10.7 or later and, of course, you must be using Apple's Time Machine app, which requires an external hard drive.

Documentation
The Help Book in this tiny application is pretty tiny, but it has one, and it's also available online, here.