5.3  Using BookMacster in Browsers
5.3.1  Floating Menu
BookMacster is accessible from within any browser via its Floating Menu.  You can access it via its global keyboard shortcut, BookMacster's Dock Menu, or BookMacster's Status Menulet.  In this menu, you can land a new bookmark to the web page you are currently viewing into any desired folder, and you can also visit a bookmark you have previously stored in a BookMacster Bookmarkshelf.
This hierarchical menu has keyboard focus, and the best way to navigate it is using the arrow keys on your keyboard.  The → key takes you down to the next child level.  The ← key pops you out to the parent level.  The ↑ and ↓ keys navigate up and down the presently-displayed menu.  Once you've reached the desired menu item, hit the 'enter' or 'return' key to "click" it.
Visiting a Bookmark
All of the bookmarks in any open Bookmarkshelf() are in the Floating Menu.  To visit one, just click it.
The Add To and Add Here Menu Items
At the top of the Floating Menu is an Add To menu item.  The item to be added is a bookmark to the last web page you visited in Camino, Chromium, Firefox, Google Chrome, OmniWeb, Opera, or Safari.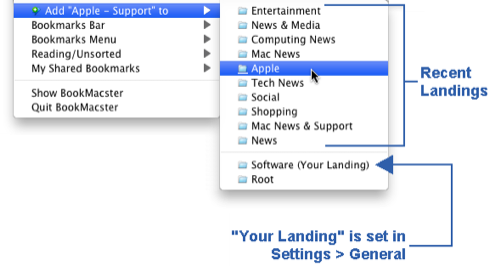 Besides your default New Bookmark Landing, BookMacster remembers the last ten folders that you've landed new bookmarks into.
If you click one of the items farther down, you can navigate through the entire hierarchy in your Bookmarkshelf and land a new bookmark in any folder by using the Add Here menu item for that folder.  In this example, we're about to add that Apple - Support web page we were viewing to our Apple folder, which is a subfolder of our Bookmarks Menu in our open Bookmarkshelf.
If you have more than one Bookmarkshelf open, the menu shown becomes a submenu, and there is one for each open Bookmarkshelf.
5.3.2  Which browser is used for visiting
If the active application is a web browser, the bookmark will be visited with that web browser.  This is normally the case if you are browsing the web with, say Safari.  Thus, you can visit any bookmark with any browser at any time by activating the desired web browser before clicking the bookmark.
If the active application is not a web browser, the bookmark will be visited with the default web browser for that bookmark.
Thus, if you want to visit a bookmark with your designated web browser for that bookmark, activate any app which is not a web browser (not Safari, not Firefox, not Google Chrome, etc.) before clicking the bookmark.  Note that the latter case always applies if you doubleclick a bookmark in a Bookmarkshelf window, because at that time BookMacster itself is the active application, and BookMacster is not a web browser.
There are several settings which can affect the default web browser for a bookmark.
First, in BookMacster's Inspector, with the subject bookmark selected, if you have designated a browser, that browser will be used.  If that is at the default setting of Use Document Default Settings, then

Whatever browser you have designated in the Bookmarkshelf Document window > Settings tab, General subtab, under By Default, visit bookamrks with: will be used.  If that is the default setting of Your Default Browser then,

Whatever browser you have designated in the Safari application, in Safari > Preferences > General > Default Web Browser will be used.
To summarize: By default, BookMacster visits bookmarks with your Mac OS X Default Web Browser, but you have fine-grained control down to the level of a single bookmark if you want to use it.
5.3.3  Bookmark Name and Comments are Generated Automatically
A newly-landed bookmark will have its Name set initially to the title of the window in the web browser (which is generally the name provided by the website publisher
If you have selected any text on the web page, the bookmark's Comments will initially be set to your selected text.  (This does not work in all browsers.  It works in Chrome and Camino.  For Safari, OmniWeb and Opera, this works if you are using Mac OS X 10.8 or earlier.  In Mac OS X 10.9, we found that Apple would require you to jump through a security hoop, granting BookMacster access to "control your computer", and then even after you do that, it still doesn't work.  So we filed a bug to Apple and disabled it in these cases.)
5.3.4  Menu Items and Toolbar Buttons in Web Browsers
Through the magic of browser add-ons, BookMacster is able to install controls into some web browsers which send bookmarks directly to BookMacster.  In Firefox, you can have two menu items added to Firefox' Bookmarks menu:

In Google Chrome, Canary and Chromium, you can have a browser action button which sits to the right of the browser's address field:

Although there is only one action in these browsers, you can still Add Quickly or Add & Inspect by using the option key to control whether or not the Inspector appears.
These controls are not installed by default.  To install them, in BookMacster click in the menu BookMacster > Manage Browser Add-Ons and switch the desired checkboxes in the rows labeled Menu Items or Toolbar Button on or off.
5.3.5  The BookMacsterize Bookmarklet
The BookMacsterize Bookmarklet is not as handy as BookMacster's Floating Menu and is not recommended for new users.  It is kept for Mac OS X 10.5 users who do not have BookMacster's keyboard shortcuts from web browsers available, and because it works in all locally-installed browser apps, even if it is not a readable web browser app.
Although it looks like any other bookmark, clicking this bookmark does not visit any site.  Instead, it sends the title of the web page you are visiting, its URL, and any static text which you have selected in the page, to BookMacster.  BookMacster immediately creates a new bookmark from this information, entering the selected static text into its Comments field.
Creating the BookMacsterize Bookmarklet
There are two ways to create a BookMacsterize bookmarklet.
Install in Browser (Recommended).  Clicking in the menu File > Install Bookmarklet into ▸ will create a BookMacsterize bookmarklet in the frontmost open Bookmarkshelf if one does not exist, and then export only the BookMacsterize bookmarklet to a selected Client browser.
Add to Bookmarkshelf.  One of the menu options under the [+] (Add) button in the upper-right corner of the Content Tab is to add a BookMacsterize bookmarklet.
After you perform an Export, this BookMacsterize bookmarklet will appear in the Bookmarks Bar/Toolbar/Favorites (or whatever it is called) in any locally-installed web browser app which you exported to.
Managing the BookMacsterize Bookmarklet
The URL of the BookMacsterize Bookmarklet is a bit of JavaScript which sends the information to BookMacster.  Modifying this JavaScript may render it no longer functional.
By default, the BookMacsterize bookmarklet is placed at the end of the Bookmarks Bar/Toolbar/Favorites, but you may move it to wherever you wish, or you may delete it if you don't want to use this feature.  You can restore a missing or broken BookMacsterize bookmarklet by selecting its menu item under the + button in the top-right corner of the Main Content View.
You may also rename it.  For example, to conserve space on your Bookmarks Bar, you may want a shorter name.  The letter "B" works fine.  You might also find a suitable symbol by clicking in the menu Edit > Special Characters.  We didn't find any that we liked enough to use as default, but here are some you might consider:  ◆ ✸ ✔ β ◉.  Tip: You can copy and paste from here.