Our apps are updated as needed to fix bugs, features, or performance, and maintain compatibility with changes in OS X and web browsers.  When an app is updated, it gets a higher version number.  For example, version 1.2.2 may be updated to 1.2.3.  Any given version of our apps, say, version 1.2.3, never changes once it is published.

Users get updates of our apps automatically.  We offer three update channels:

• Stable ("Production") updates are for everyone
• Beta are for early adopters
• Alpha are for very early adopters

Although we have a good testing regimen, it is always possible to introduce new bugs.  Most updates are therefore intnroduced on the Beta channel and, after a week or two, are graduated to the Stable channel.  Alpha is used when we think that the risk is higher than normal.  We appreciate users who opt for the Alpha and Beta channels helping us finish our testing and release quality updates.  A user opting for Alpha and/or Beta updates will typically get updates thrice as frequently, maybe every 1-4 weeks, compared to a user on the Stable update channel, maybe every 3-12 weeks.  Updates are more frequent during late summer, when we are preparing for new releases of OS X.

New releases on the Stable channel are announced on MacUpdate.
To update to an Alpha or Beta version by Preference
• If you do not have the subject app already installed, do so by downloading from one of the links on the right. 

• Launch the app.
• Click in the menu <App-Name> ▸ Preferences ▸ Updates and check boxes to indicate if you want only Beta versions or Alpha too…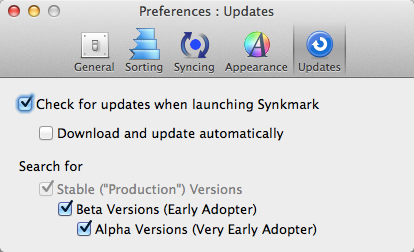 • Click in the menu <App-Name> ▸ Check for Update
• Follow further instructions which shall appear.


To download an alpha or beta directly

You may prefer to download an alpha or beta directly, for example if the application package you have is corrupt and will not run.  However, if you choose this route, be sure to read the latest Update News first and verify the version after downloading and unzipping, because sometimes, after we graduate a version from alpha to beta to production, the latter, alpha in particular, might be older than the production version.  If you get a 404 Not Found error for an Alpha or Beta, that means that there is no alpha or beta available at this time.  With these warning, here is a table of clickable links…
*  *  *